Through building personal relationships with his clients, Dino offers professional support and guidance in order to secure compensation, which helps to improve quality of life post accident. His tenacity has secured compensation in some very difficult cases, earning him a strong reputation within his field.
Dino's motivation to help those who have suffered life-changing and traumatic injuries has been the driving force behind the strong development of the Personal Injury side of the business. His work has also secured him several awards for severe injury cases.
Based in the Brighton office, where he is heavily connected to the arts and cultural development of the city, Dino manages responsibilities for both the Brighton and London offices, overseeing and implementing the firm's strategy across the board.
Dino is a trained mediator and was awarded CEDR Accreditation in 2005. In his spare time, he works closely with ZAP Art and is a trustee of House, providing legal advice and personal guidance to create cultural innovation within the community.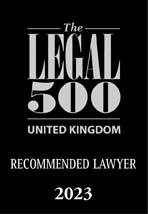 A delay in diagnosis resulted in a client being left with limb weakness and impaired mobility. Initially the hospital denied they were responsible but with Dino's help the client received a negotiated sum in compensation.
Dino helped a client in his 50's get his life back together after an accident in work resulted in the amputation of his right leg above his knee. Responsibility was not contested and Dino was able to secure a six figure sum in compensation to improve the client's quality of life.
Dino was able to help the partner of 18 year old student who was involved in a fatal road traffic accident. The partner had been pregnant at the time of the accident and Dino was able to secure a six figure sum in compensation to help support the baby girl.