Robert Johnson is a partner and is Head of the Professional Negligence department at Healys. He specialises in professional negligence, commercial litigation and shareholder disputes.
Robert joined Healys in September 2005, having previously been a partner at a large regional practice (Taylor Walton LLP) and associate at a large City practice (Simmons & Simmons).
Robert brings over 33 years' experience to commercial litigation cases, acting for a wide range of clients across most industries. With a wisdom, confidence and understanding that each case is different, Robert develops important and lasting relationships based on trust and transparency, and has a deserved reputation for his clear, efficient and friendly approach.
Robert has established a small but dynamic claimant professional negligence practice that has grown in reputation and is driven by results. For the last 10 years, Robert's practice has been listed and he has been ranked as a leading individual in the Legal 500 and/ or Chambers & Partners directories. Robert and his team win more than 95% of their clients' claims.
Robert has a wide range of commercial skills: management of people, cases and projects; a clear and strong communicator; analytical; a tactical and strategic thinker and negotiator; ability to identify quickly key issues and understand clients' businesses; monitor and deal with budgets; early and accurate assessment of cases, people and circumstances. Robert is a well-rounded, balanced individual who works effectively alone and as part/leader of a team.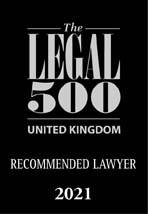 Acted for two shareholders against a majority shareholder, trading company and parent company in a claim to recover the shares/their value which had been acquired by the Defendants through misrepresentation, duress, undue influence and/or breach of fiduciary duties. Multi-million pound settlement achieved on the first day of trial.
Acted for energy supplier company in defence of claim by a competitor for the economic torts of conspiracy, inducement to breach, tortious interference and misuse of confidential information.
Acted for 4 of 18 individuals/companies in defence of claims alleging fraud, misrepresentation and conspiracy in respect of multi-million pound London property developments.
Acted for in excess of 100 individuals against Cypriot banks, developers and lawyers in relation to the mis-selling of property in Cyprus.
Acted for 18 shipping companies in relation to disputes regarding various asset finance related agreements, guarantees and mortgage documents involving proceedings in England, South Africa, New York and Cyprus.
Acted for 1 of 18 Defendants in claims for damages for conspiracy to injure by unlawful means/deceit for misrepresentations involving many jurisdictions, application contesting jurisdiction and anti suit injunction.
Acted for offshore intermediary for breach of contract (comemrcial) claim which resulted in an early settlement.
Acted for 2 corporate clients who became involved in a multi million pound litigation at a very late stage (weeks before trial).
Acted in numerous breach of contract, warranty and indemnity claims arising out of purchase/sale of share agreements.
Acted for individual against a firm of solicitors for professional negligence. The claim arose from the manner in which the firm dealt with the client's claims against various financial institutions for breach of contract and in particular the advice given in respect of the funding of those claims.
TESTIMONIALS
You can find a number of testimonials for Robert Johnson under these sections:

Robert Johnson general testimonials
Robert Johnson CFA testimonials
Robert Johnson professional negligence testimonials
Robert Johnson legal directories testimonials:
Healys LLP 'compares very favourably with other larger law firms' in advising individuals and companies on claims against a range of professions. In recent years, the practice has primarily acted against solicitors, though practice head Robert Johnson has a 'wealth of experience' in advising on claims involving barristers, architects, surveyors, financial advisers and accountants.
Legal 500 2021
Robert Johnson has considerable expertise representing individuals in negligence claims against solicitors, accountants and real estate agencies. "He has excellent analytical skills, strong commitment to his clients and commercial astuteness." "He is very easy to work with and always available to respond to any queries." "He is able to describe complex details in layperson's terms while guiding clients through the legal details of the case."
Chambers & Partners 2021
With lawyers spanning its London and Brighton offices, Healys LLP is instructed by claimants on a variety of professional negligence disputes. The team is experienced in claims spanning the legal, accountancy, financial services, property and construction sectors.
Legal 500 2020
Robert Johnson focuses on representing claimants in disputes against solicitors and barristers. A client says: 'He is extremely knowledgeable and experienced, with a very practical and pragmatic approach. He is always communicative and quick to respond'.
Chambers & Partners 2020
Healys LLP regularly acts for claimants in cases against solicitors, barristers, architects, surveyors, financial advisers and accountants. Department head Robert Johnson is 'incisive and attentive, responding instantly to queries with clear answers and explanations'.
Legal 500 2019
Robert Johnson of Healys focuses his practice on acting for clients in claims against solicitors and barristers. A source enthuses: 'He makes a real effort to be available promptly, whenever the matter has required, with succinct, helpful communications at all times'.
Chambers & Partners 2019
Dispute resolution head Robert Johnson is 'bright, commercial and manages to master the detail while at the same time being focused entirely on the commercial aims of the client'.
Legal 500 2018
Robert Johnson of Healys is 'very thorough and commercially minded' according to sources. He focuses on advising claimants, and assists them with disputes involving a full range of professionals.
Chambers & Partners 2018
Robert Johnson of Healys earns plaudits for his 'wealth of experience and strong commercial views.' He is recognised for his experience representing claimants, and his recent activity includes advising on disputes related to property purchases, insurance contract terminations and fund misappropriation claims.
Chambers & Partners 2017