David qualified in 1991 and was a partner in Sprecher Grier Halberstam now Shakespeare Martineau before joining Healys in 2016.
David deals with all aspects of commercial litigation including professional negligence against solicitors, surveyors, accountants and other advisors, and mortgage-related litigation. Other areas of work include recoveries, commercial fraud and property litigation.
David has built his financial dispute practice over the past couple of decades by focusing on finance disputes, particularly lender oriented litigation and professional negligence and fraud claims. David combines clear leadership with a hands on approach and has developed an impressive track record of optimising recoveries for his clients. He is directly involved in cases, being passionate about developing practical, commercial solutions.
David is acknowledged as one of the UK's leading professional negligence litigators by the Legal 500 and Chambers & Partners, describing him as, "amenable, thorough and dedicated"; with "extensive knowledge of legal issues." David has also been ranked as a Top Recommended Litigation Lawyer in the Spears 500 guide to the best private client advisors.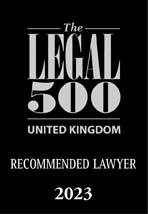 David Bailey has been recognised by the International Advisory Experts Awards as the United Kingdom Commercial Litigation Law Award Winner 2020.
A claim for fraud arising out of the dishonest diversion of business, clients and income by the Managing Director and others. The Defendants had dishonestly diverting payments and used the client's news feed to provide services to other customers. After obtaining a Freezing Injunction against the Defendants and having settled the claim there will be a near total recovery: £3,000,000.
Defending a claim pursuant to a personal guarantee and legal mortgage on the basis that the underlying contract was illegal: $350,000.
Acting for a bank in a claim under a personal guarantee. The guarantor has alleged that the company was not indebted to the bank because fraudulent and/or unauthorised payments were made by it to the company's suppliers: £150,000.
Defending a claim by two investors in the company who had failed to complete an arrangement to pay £2.8m for the purchase of plant and machinery and then claimed title to the plant and machinery and its delivery up. The shareholders then commenced proceedings in Court in Kaliningrad, Russia and we liaised with our client's Russian lawyers on issues of company law and title to goods. Our client was successful and we are now advising on potential claims against the two investors for losses arising from their failure to complete the arrangement: £2,800,000.
Shareholder dispute where a principal shareholder refused to participate in the company where a shareholder agreement in effect prevented any decision regarding the running of the company to be made without the consent of the two principal shareholders, which had created deadlock. Advising on s459 and on just and equitable winding up: £6 million
Shareholder dispute arising from the ownership of a company by one shareholder which the other claimed should be a subsidiary: £10,000,000.
A claim against the seller of a company for failure to disclose material information regarding the use of land and reports as part of the due diligence exercise: £5,000,000
Shareholder dispute regarding liability for payments to the group pension scheme and who should bear the shortfall under sections 75 and 75A of the Pensions Action 1995: £1,000,000 per year.
Defending a claim regarding the contamination of land (phthalate and DOP contamination) that had leaked from the client's site onto a neighbour's land and liaising with the Environmental Agency given the presence of hazardous substances and hydrocarbons entering a local river.
A claim by a property agent for unpaid introductory commission arising from the purchase of a plot of land for £13,000,000: £195,000.
Acting for a charity hospital in claims for increased patient fees from placing Care Commissioning Groups. This claim involves 12 CCG's and a total claim in excess of £1,000,000.
Advising a hospital in relation to an attempt by the responsible CCG that the hospital should be responsible for collecting payment of future costs of prescriptions of £1,200,00 per year.
Claim against a company for breach of copyright and fraud by using our client's test results to obtain a licence granted by a local authority (A9 approval) and against the local authority for incorrectly granting the approval.
A claim against former directors arising out of the dishonest diversion of income by selling products at cost to a separate company owned by them and then on selling the product whilst under-cutting the client on price: £750,000.
A claim for the recovery of a loan made by an on-line lender fraudulently obtained by impersonation, involving pursuing the receiving bank for failure to follow anti-money laundering proceedings, resulting in a full recovery: £80,000.
Claim arising as a result of failure to provide appropriate wealth management and pension/investment advice including, a failure to, properly assess (and keep under review) the level of risk the clients were willing and able to take in relation to their money which was to be invested and select investments consistent with their risk category: £2 million.
Acting for the Administrators of a short term lender in a conflict of interest situation in a valuer claim. The Defendant alleged that the claim was statute barred putting the acting solicitors into a conflict of interest. Advising on whether the claim was barred and on the settlement offers as they were made which included being on standby during the mediation at which the dispute was resolved: £1.3 million.
Claim for recovery of the proceeds of sale of a business fraudulently diverted where an email instruction to their solicitors had been intercepted and replaced with a change of instructions on which the solicitors acted: £180,000.
Acting for the trustee of two estates in relation to a claim against a firm of solicitors for advice that the trustees sign a variation to a Nil Rate Band Trust to regularise the inheritance tax position. However this was inappropriate and as such the trustee was in breach of trust. The case also involved s61 of the Trustee Act 1925. On advice the client was able to mitigate the loss in full and is now pursuing costs: £325,000.
Acted for a developer company in relation to a claim against solicitors in relation to a failed property transaction for failing to identify and purchase all component parts of a plot for the development to proceed: £1 million.
Acting for a company in liquidation against one of the Big 4 accountants for auditor negligence – an exceptional achievement given the difficulty in claims where the director and sole shareholder of a closely held private company deceived the auditors with fraud carried out on all creditors: £6 million.
A group claim against a firm of solicitors involving issues of securitisation, mortgage account sales and sale and lease backs: £850,000
approximately 75 claims against solicitors and valuers in relation to five multiple buy to let portfolio borrowers.
A claim against a firm of surveyors and the individual surveyor for their alleged negligent overvaluation of nearly 50 properties: £4,000,000
A group claim against solicitors for breach of fiduciary duty and negligence in relation to 13 properties: £2million.
A solicitor claim for breach of fiduciary duty and negligence. Insurance coverage was reserved pending investigations, which included a criminal trial for fraud of one of the former partners of the Defendant firm: £1.2 million.
Pursuing a valuer claim on the primary basis of a 'no-transaction' claim because the seven security properties were next to a factory had the valuer correctly reported the location of the property, the lender would not have proceeded with the application. There were issues of limitation and the correct measure of loss and the claim was settled at mediation: £700,000.
Pursuing a claim against a firm of lawyers and two barristers for breach of duty whilst acting for their clients in a claim against a high street bank in Gibraltar arising out of loans made to them and secured on their property. The barristers were instructed under the direct access scheme. As a result of the defendants' negligence the claim was struck out.