PROFESSIONAL NEGLIGENCE
If you feel that you have been let down by a professional, you may be entitled to make a claim against that professional for professional negligence.
What is a Professional Negligence Claim?
A Professional negligence claim is where a professional (such as a financial adviser, accountant, solicitor, architect, estate agent or a surveyor) fails to perform to their defined duties and this results in their client incurring a financial loss.
Every professional has a duty of care to a client, which commands them to perform their job to an appropriate standard, with reasonable care.
Negligence happens if a professional has not met this commitment when representing or working with their client.
Professional negligence claims are not uncommon and in recent years have increased for a number of reasons. One contributing factor to this, is that we are increasingly more aware of our legal rights and how to exercise them.
Healys solicitors has more than 20 years' experience of advising businesses and individuals on negligence claims against professionals.
Healys Professional Negligence team win 95% of their client's cases
Our legal experts appreciate that every case is different and holds its own complexities. That's why we take a personalised approach when exploring our client's situation in order to make sure we can support you in achieving the best possible outcome.
Funding Your Claim
If you think you may be in a position to bring a claim against a professional but may be concerned about your financial situation in pursuing this, we can help you. Our solicitors can assist you to assess the prospects of your claim and when possible, support you to find suitable funding to manage court fees and pursue the claim.
For more information on 'No Win No Fee' and additional financial support, please click here.
Our Recent Cases
Here are some examples of recent professional negligence matters, which have been successfully won on behalf of our valued clients:
Claim against a firm of solicitors for professional negligence.  The claim arose from the manner in which the firm dealt with the client's claims against various financial institutions for breach of contract and in particular the advice given in respect of the funding of those claims.
We succeeded at trial in the Technology and Construction Court in the case of Freeborn v De Almeida Marcal (t/a Dan Marcal Architects) [2019] EWHC 454 (TCC). This case was of wide-spread significance to those who commission construction professionals and was additionally covered in national newspapers.
A successful claim against a firm of accountants for failure to provide proper tax planning guidance in relation to a (now failed) tax avoidance scheme.
A claim against a leading national Bank, relating to the sale at undervalue of a substantial Georgian mansion.  The property was repossessed by the bank during the property crash in early 2011.
A claim against a firm of estate agents arising out of their failure to carry out (1) proper (or any) due diligence on the tenant of our client's property and/or (2) sufficient (if any) security checks of the property. The claim also involved coverage of the clients' insurance policies which may have been avoided as a consequence of the agent's failings.
Advising on a claim against an IFA for negligent advice in transferring her occupational pension to a self-administered scheme. The claim involves complex issues of limitation and causation.
Why Healys Professional Negligence Solicitors?
Healys Professional Negligence legal team have acted against most professionals, which includes solicitors, barristers, architects, surveyors, financial advisors and accountants.
We always aim to minimise the risk and stress of disputes by finding creative funding solutions to achieve efficient, but desired results.  In addition to a high quality of service, clients can be assured to receive transparency on costs throughout and regular updates on the practice and procedures involved in pursuing your claim.
Healys Professional Negligence solicitors have an outstanding reputation for gaining the best possible outcomes in professional negligence cases.
"In 2007 I had to seek the advice of Robert Johnson in the commercial litigation department. I am extremely glad that I did – in January 2010 I was awarded substantial damages for a wrong that I had suffered. Although the whole process is obviously a fraught one which is not to be undertaken lightly, Robert helped me through with confidence, calmness and assuredness. His knowledge of both the law and the due process were excellent whilst maintaining an awareness of my commercial needs. It is undoubtedly true to say that during the time that the litigation lasted, I viewed Robert as a partner as well as an advisor, in no small part because he and Healys shared the commercial risk by undertaking the matter on a "no win, no fee basis". Without his marvellous support I would not have had the courage to take action and would not be in the happy state that I find myself in today."
Sherborne Land Limited
Our team have achieved a range of legal rankings and awards, which further reflects the team's professionalism and dedication to achieve the desired outcome of our clients.
For the last 11 years, our Professional Negligence team has consistently been recognised by leading legal review bodies, including Legal 500 and Chambers & Partners. Partner & Head of Professional Negligence Robert Johnson is ranked by Chambers & Partners as a Leading Individual, and as a Recommended Lawyer in Legal 500. Partner David Bailey is also recommended by the Legal 500 for his work in this practice area.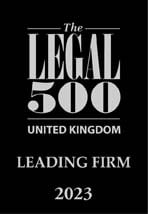 "Department Head Robert Johnson manages to master the detail while at the same time being focused entirely on the commercial aims of the client. He is "incisive and attentive, responding instantly to queries with clear answers and explanations". The team, which includes David Bailey, is experienced in claims spanning the legal, accountancy, financial, property and constructions sectors."
LEGAL 500
"Robert Johnson of Healys earns plaudits for his wealth of experience and strong commercial views. He is "extremely knowledgeable and experienced, with a very practical and pragmatic approach."
CHAMBERS & PARTNERS
Getting Your Claim Assessed by Legal Specialists
Our professional negligence solicitors have the necessary levels of experience, expertise and resources to provide advice, assistance and representation to clients. The team includes a member of the Professional Negligence Lawyers' Association with excellent contacts with leading chambers in this field.
Professional negligence is a specialist subject within legal services and not an area of general practice for solicitors. This has the effect of reducing the number of solicitors who are sufficiently aware of the issues involved to enable them to undertake professional negligence work effectively.
Healys professional negligence team are experts in this field and that is reflected in the increasing number of cases on which we are instructed and win. We advise on claims against most professionals including solicitors, barristers, accountants, surveyors, financial advisers, project managers, planning consultants and architects.
"This firm Healys LLP is an outstanding law firm. If I have any law issues in the future, I would not hesitate to use them."
Martyn Gould
Our professional negligence solicitors have the necessary levels of experience, expertise and resources to provide advice, assistance and representation to clients who believe that they have a claim against a professional. The key elements of this service are:
Quick and efficient review of any potential claim;
Clear advice on the merits of any potential claim;
Full explanation of the practice and procedures involved in pursuing a claim;
Transparency on costs; and
Availability of alternative means of funding to include conditional fee agreements.
Contact Our Professional Negligence Solicitors in London and Brighton
Healys professional negligence solicitors have substantial experience and expertise in professional negligence matters. The team includes a member of the Professional Negligence Lawyers' Association with excellent contacts with leading chambers in this field.