With 20 years of experience working closely with business owners, Karen is a commercially minded lawyer with significant expertise in providing the full range of corporate transactional work for UK and international clients. Having completed the CPE and LPC at the College of Law Guildford, she qualified as a solicitor in 1998.
Karen offers advice and assistance in all corporate matters, including; cross-border transactions, joint ventures, corporate restructuring, demergers and private equity investment. She can advise owner-managers, MBO teams and corporate acquirers, and has extensive experience assisting with intellectual property protection, in particular trademark portfolio management.
Karen acts for both buyers and sellers on deal values ranging up to £15 million, and has been involved in a number of management buy-outs. An area of her work that she finds particularly rewarding is providing assistance and guidance to start-up businesses with early-stage funding, and to those planning to grow their company or to buy a bolt-on business.
Karen has been involved as the lead legal adviser in two deals which have won Insider Deal of the Year, and has been recognised as a "leader in her field" by both Chambers and Partners and The Legal 500.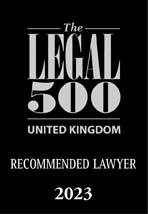 I would like to say a big thank you to Karen Lord and all the team at Healys who have helped get this deal over the line. Thank you for outstanding patience and professionalism, for inspiring confidence and making me feel all was under control at all times. This is the second time I've worked with Karen and undoubtedly, I would do so again. I always felt I was in good hands. Picking Healys was the right choice, you have an excellent team.
Eamonn Fogarty - Managing Director
Brookland Computer Services
Thank you Karen! It was quite the experience, and already looking forward to the future engagements! Thanks again for your help during the process, can't imagine the number of ways this could have gone without your quality advice! Made the transaction feel a lot more smooth and felt much more confident on the safety of the final terms.
Business Seller
Thanks again – your advice has been really appreciated and delivered in a very clear, understandable and supportive way for our client.
Gemma Hope
Family Law Partners
Karen Lord is the head of the corporate department at Healys. She operates a diverse transactional practice incorporating experience in M&A and joint ventures, among others. Her client base includes corporates and private equity sponsors. "Karen is fantastic and knowledgeable."
Chambers & Partners 2023
Karen Lord operates a diverse transactional practice incorporating experience in M&A and joint ventures, among others. Her client base includes corporates and private equity sponsors."Karen is very good at looking at the details and making sure everything is correct." "She is a very thorough and experienced lawyer."
Chambers & Partners 2022
Karen Lord delivers sound, commercial advice and is prepared to listen to clients and deliver the deal.
Chambers & Partners 2021
Karen Lord advises on lower mid-market corporate transactions, drawing upon considerable experience in handling M&A deals, private equity work and joint ventures. Clients say: "Karen is a no-nonsense lawyer who spends time ascertaining the whole picture and then supports you both during and out of office hours."
Chambers & Partners 2020
Acted for The Monarch Partnership on the acquisition of Energy Intelligence Centre (EIC) and T-Mac Technologies, in a transaction forming one of the UK's largest utility consultancies.
Advised the shareholders of Intralan Group, a UK-based IT and telecommunications network support specialist, on the sale of the entire issued share capital to a US private investment firm.
Sale of financial services and wealth management specialist, Harvey Curtis Associates, for a value of circa. £2.6m to acquisitive UK financial services specialist, AFH Financial Group.
Advised the shareholders of a UK based publisher on an investment by a US publisher.