Healys' Commercial Litigation Group are experts in dispute resolution. We resolve disputes on behalf of our clients by understanding the best means of achieving our clients' aims. In the vast majority of cases, this will be to conclude matters as quickly and as cost effectively as possible. However, there may be other commercial considerations affecting strategy.
Our Commercial Litigation Group is a professional unit providing an excellent service. All of the Fee Earners in the Group have a high degree of technical ability which enables each of them to create commercial and pragmatic solutions.
We aim to resolve disputes on behalf of our clients as quickly and cost-effectively as possible. We always seek to provide value for money. We litigate of course but we also engage in all forms of alternative dispute resolution (ADR) and particularly mediation.
We offer a variety of different types of retainer, many of which involve us sharing with you the risk of the dispute, such as conditional and contingency fee agreements. We also offer fixed fees, capped fees and discounted fees to assist you in the management of the cost of litigation and to provide as much certainty as possible in respect of those costs.
We provide regular costs updates and work within budgets. We aim to keep our clients updated at all times and work within deadlines. We focus on and specialise in acting for small to medium sized commercial clients who require advice on complex and high-value litigation matters.
Our Dispute Resolution Team and Partner, Robert Johnson, have been recognised with a number of awards to include:
Commercial Litigation Solicitor of the Year 2017 – Finance Monthly
Commercial Litigation Solicitor of The Year 2017 – Lawyers Monthly (shortlisted)
Commercial Litigation (London) team of the year – Acquisition International
Commercial Litigation Law Firm of The Year – Lawyers Monthly (shortlisted)
Additionally, Healys Dispute Resolution team is recommended by the Legal 500 as one of the top commercial litigation practices in the UK; with Head of Dispute Resolution David Bailey and partner Nicholas Taylor both ranked as Recommended Lawyers.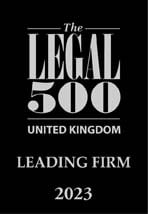 Healys' dispute resolution team is 'very professional and always prompt to respond. ' Team head David Bailey has vast experience in professional negligence claims against solicitors, valuers, accountants, financial advisors, wealth managers, and barristers. Nicholas Taylor  specialises in media law and disputes involving public figures, representing many high profile international and celebrity clients.
Legal 500 2023